East Anglia Reserve Forces and Cadets Association supporting the covenant through employer engagement
First published: 04/04/17
East Anglia Reserve Forces and Cadets Association hosted three Employer Engagement breakfasts in March to champion the Armed Forces Covenant.  These events give employers the opportunity to hear from military personnel about their personal experiences and discover how, as a business, they can support defence people through the Armed Forces Covenant.
March began with RAF Marham opening its doors on Thursday 2 March to Norfolk employers. Station Commander, Group Captain Rich Davies ADC MA RAF welcomed them all to the base and guests were fortunate enough to have a tour around the site after breakfast.
16 Air Assault Brigade welcomed 85 employers to Merville Barracks in Colchester on Thursday 9 March. In addition to meeting the soldiers who live and work in the county, employers had the opportunity to handle some of the equipment. A highlight for the group was posing for a photo in front of the iconic WW2 Dakota aircraft, used in parachute operations such as D-Day and the Battle of Arnhem.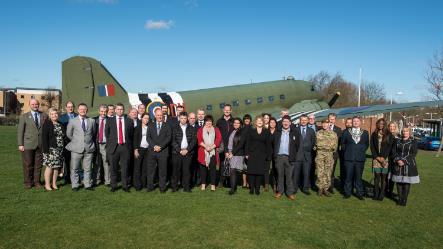 On Thursday 23 March, twenty Cambridgeshire employers took part in a networking breakfast at The Army Reserve Centre in Cherry Hinton hosted by 254 Medical Regiment. Again employers had the opportunity to meet reservists and see live demonstrations. Read more about 254 Medical Regiment's display of a POW treatment drill and 33 Engineer Regiment's robotic capabilities with their remote control dragon system here.
The East Anglia Region will soon be celebrating Armed Forces Day.  The seaside resort of Felixstowe has been chosen to host this year's Suffolk Armed Forces event and will welcome service personnel, their families, the local community and visitors alike to celebrate the contribution made by our Armed Forces past and present.
Don't forget that there's still time to apply for Armed Forces Day event funding. From creating an event for your local community to a get-together with family and friends no event is too big or too small for Armed Forces Day. Firstly you will need to register your event and then apply for funding. Applications close on Sunday 30th April.
Reserves Day will be held on Wednesday 21st June and a toolkit will be made available soon to help you kick start your celebrations.