Wrexham Borough County Council: the covenant in action
First published: 29/03/17
Wrexham County Borough Council is a local authority in North Wales with a resident population of about 155,000. Wrexham is a town with a strong and proud military heritage and barracks are situated on the outskirts of the town centre accommodating the 101 Battalion REME.
Partners across Wrexham formally signed the Armed Forces Covenant back in April 2013, and the signing coincided with 101 Battalion REME being given the Freedom of the County Borough.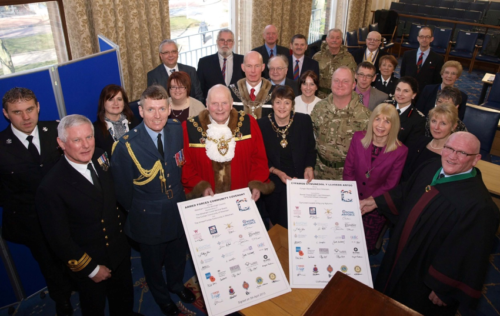 As a council Wrexham has always tried to support our local armed forces and veterans. We were the first council in Wales to offer a "Free Swim Veteran" scheme in September 2012 resulting in a 211% increase in the number of veterans taking part in our free swimming offer in the first 12 months.
Once we had signed the covenant and appointed our Armed Forces Champion it was clear we needed a more proactive, planned approach to the support we offer veterans and their families.
We began our work by holding a networking event in early 2014, inviting people from across the county borough to come along. The aim was to understand what the issues are for veterans in Wrexham; share the good work that is happening locally; and see how the covenant could assist in supporting existing work and embarking on new areas of work. From this we organised our local armed forces working group, that meets quarterly and is chaired by our Armed Forces Champion with the simple purpose of putting the covenant to work.
In our first year the working group successfully worked with a local organisation CAIS and established the 'Listen In' service across North Wales with LIBOR (London Interbank Offered Rate) funding for families and carers of veterans. We also received £50,000 to work with the local authority's contact centre to enable better communications with local armed forces and their families. We currently have just over 1,000 subscribers to the bilingual service and we continue to strive to grow user numbers. This enables us to communicate directly with local people with an interest in armed forces not just to share information but also to understand what is important to them.
2014 and 2015 saw the realisation of an ambitious project for the working group, in partnership with First Choice Housing Association Ltd. As our networking event highlighted homes for veterans was a key issue in Wrexham. Thanks to LIBOR funding we have opened Ty Dewr ('Brave House') home for veterans. The accommodation offers 12 en-suite bedrooms in a newly refurbished home in a tranquil setting just a couple of miles from the town centre. Ty Dewr also has an external gymnasium supported by a covenant grant.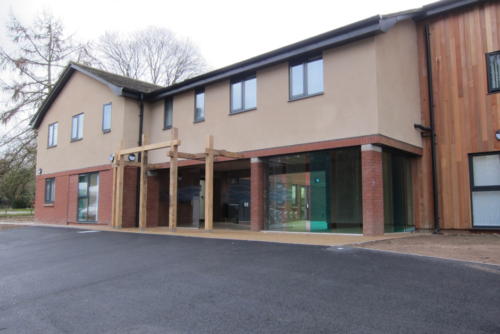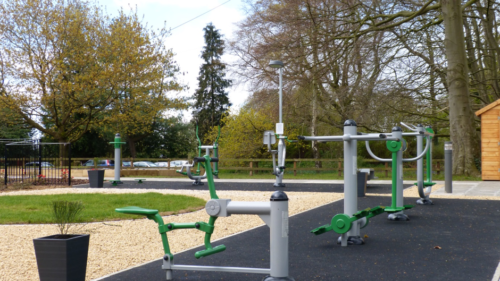 During 2014 and 2015 we worked with our local university, Glyndwr, and supported by the Forces In Mind Trust they are undertaking a unique piece of research with veterans to understand decision making as a civilian. The research will offer us a better insight into challenges that ex-service people face and the resources they use when attempting to navigate that are taken for granted expectations by the "ordinary" civilian. The research will be published in November 2017, and will highlight tensions, concerns and needs of service leavers when they make the shift from military to civilian "sense of self".
The Royal British Legion have opened a pop up shop in the town centre and have also provided training for council contact centre staff to ensure they can positively support veterans and their families. CAIS, who run the Listen In service, have veterans working on their Change Step programme and they have volunteered to help tidy war graves as part of the Remember our Heroes project. The council has also reviewed its housing allocation policy and veterans are not disadvantaged by having moved away from the area to serve their country.
Civic events are an important part of the working group's priorities. In June 2014 Wrexham was proud to host the North Wales Armed Forces day which was a great way to promote our support to our armed forces. The event brought over 7,000 visitors to the town centre and was a really positive day.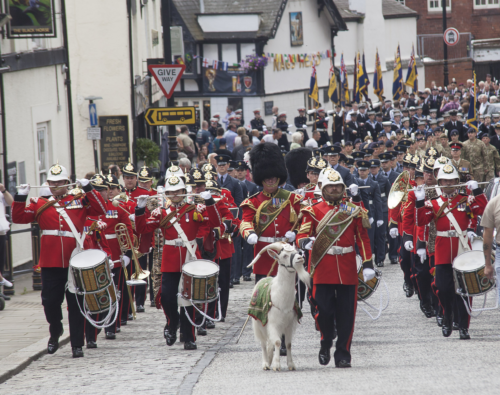 More recently as a working group we have followed up a request from local veteran groups to safeguard their local veteran standards. It is important that we can to some way to acknowledge the gratitude and respect the people of Wrexham have for local armed forces personnel past and present. The Council piloted crowdfunding as a way of supporting this initiative and we are proud to say we raised the required funds (on line and through traditional methods) to safeguard our local standards.
The Council also dedicated a section of our town centre park, Bellevue Park, as a Centenary Field in March 2015.
Looking forward we have so much more work we want to do. 2017 will be the start of a self build project with the Community Self Build agency and First Choice Housing Association. The Council supported this initiative by gifting some land and the project will mean veterans can develop skills for employment and rent one of the finished apartments.
The armed forces working group has grown into a really positive partnership where we work collaboratively to support the needs of our armed forces, and we are committed to continue what is an optimistic and positive journey.
Author: Helen Odunaiya