'Standing Together' – Ambition for Ageing Rochdale
On Wednesday 7 March, 6.30pm to 9.00pm Ambition for Ageing Rochdale will be holding an event 'Standing Together' at Apna Ghar next door to Kashmir Youth Project. The event will celebrate the involvement and impact of BME communities during the First World War.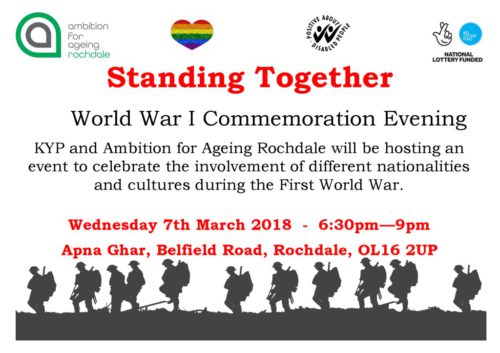 This event will be an opportunity to bring stakeholders together to look at ways of working around themes of community cohesion, co-production and supporting the needs of veterans aged 50+. We hope to use this to event to generate discussions to develop ideas and future activities as part of the Ambition for Ageing programme in Rochdale.
We will be having a presentation from a group called ' Southern Voices ' who will be curating a piece around the involvement of different cultures during the First World War. We will also be having a number of speakers, who will share their experiences of serving in the Armed Forces.
Food will be provided as well as a round table discussion so we can get together to shape and design activities that meet the needs of those over 50.
We look forward to an evening of celebration and a chance to bring all communities together.