Gold standard businesses get behind our Armed Forces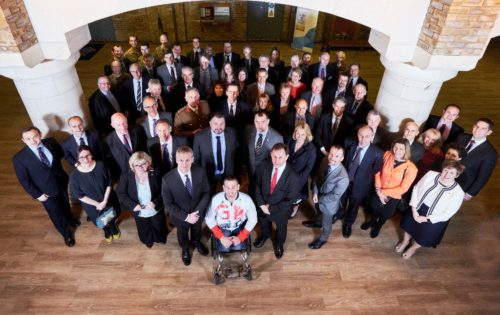 A new group of Forces-friendly employers have joined forces to drive forward the aims of the Armed Forces Covenant and tighten the ties between Defence and employers.
The Alumni Group, as it is called, is open to all UK organisations that hold a Gold Defence Employer Recognition Scheme (ERS) award. Its members are part of a wider community of more than 1,300 companies from the private and public sector that have signed the Covenant and are working to ensure that serving or former members of the Armed Forces and their families get a fair deal.
At the launch, Joe Townsend, a former Royal Marines Commando, who lost both legs in a blast while serving in Afghanistan in 2008 gave his Rio 2016 Paralympics kit to his sponsor, Atkins, the company behind the initiative, to show his gratitude for their support.
While he was prepared to put in the hard graft through years of rehabilitation and training to gain selection for the Paralympics, without the backing of his sponsor, a career as an elite athlete would not have been possible.

The creation of the group has been in partnership with the Ministry of Defence, including the Defence Relationship Management and Employer Engagement teams, although it will be led and driven by business.
The Alumni Group will work closely with MOD to promote the Armed Forces Covenant, champion Armed Forces engagement with employers, share best practice and provide an informed and influential stakeholder sounding board for new initiatives that build on the good work already achieved.
Design, engineering and project management consultancy Atkins, who secured their Gold award in 2015, proposed the creation of the Alumni Group. The company's Armed Forces champion, Chris Jones, an RAF reservist, is serving as the Alumni Group's initial chairperson.
Chris explained:
"This exciting initiative brings together a network of gold-standard employers that have already delivered over and above their Armed Forces Covenant pledges, and now want to do even more.

"The Alumni Group will provide member organisations with an opportunity to maintain the momentum we've all generated in our drive to achieve Gold Award status and to use that energy to support and inspire other like-minded employers to greater achievement as well as experience the benefits of the partnership with Defence."
Brigadier Mark van der Lande CBE, Head of Reserves, Reserve Forces and Cadets, said:
"We commend this initiative it's another great example of how employers are putting the Armed Forces Covenant into action to support our Forces. The Employer Recognition Scheme Gold award winners have raised the bar for employer support and are well placed to share best practice and inspire other employers to follow their lead and experience the benefits of doing so."
The Following are participants  of the scheme:
AA
AECOM
Atkins
Atos
BAE Systems
Barclays
Boeing
BT
Carillion
Deloitte
Fujitsu
Gloucestershire Hospitals NHS Foundation Trust
Hewlett-Packard Enterprise
Holt's Military Banking, Royal Bank of Scotland and NatWest
HSBC
ISS UK
Jaguar Land Rover
JP Morgan
Kier Group
KPMG
National Express
Nationwide Building Society
Pertemps
The Royal College of Nursing
Serco
Tesco
United Utilities
Waves Training Solutions Ltd