E-learning for Local Authorities
Links to e-learning and the Forces in Mind training website.
Armed Forces champions in local authorities need to understand the unique challenges that service personnel face. Forces in Mind trust and a partnership between 3 councils have some helpful resources to help staff that are new to the covenant.
E-learning package
Coventry, Solihull, and Warwickshire Armed Forces Covenant partnership are now running an e-learning programme as part of their work. The purpose of the e-learning is to raise awareness within civilian and military organisations.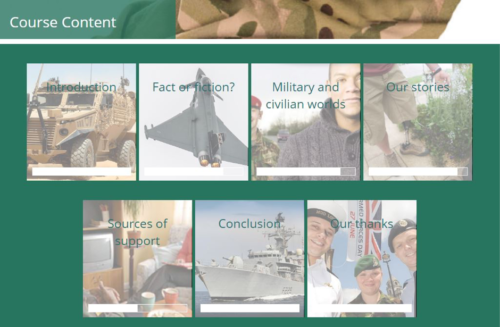 The materials are available for free for any agency organisation. It is aimed at front-line staff who engage with families on a regular basis. The training provides an overview of by giving the unique challenges of service life and how staff can help support the armed forces community.
Contact Phil Deakin at Warwickshire County Council on afcc@warwickshire.gov.uk 
Forces in Mind toolkit
The Forces in Mind trust is a charitable organisation that aims to enable ex-service personnel and their families to lead successful civilian lives.
The Trust frequently commissions research and had produced a report on effective delivery of the covenant within communities. The report is available on
The Forces in Mind trust website..
The report includes a toolkit for councils to help implement the covenant. It is based on a review of successful councils and how they help deliver the covenant. It begins on page 42 of the report.