New support service for veterans launches
A new drop-in centre to support ex-service men and women or their families has been set up at Stafford Library. Ex-service men and women or their families will now be able to get emotional, financial and practical support at the library on Fridays between 10am and 2pm.
The drop-in sessions are being offered through local Armed Forces charity SSAFA (Soldiers, Sailors, Airmen and Families Association) and Staffordshire County Council. The service is run entirely by volunteers and can help those who are having a difficult time adjusting to civilian life, either because of money worries, relationship breakdowns, struggling with finding employment or finding housing.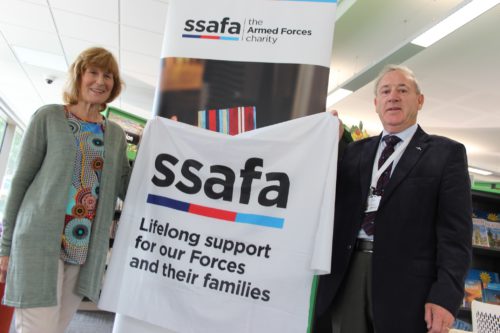 Alan White, Deputy Leader of Staffordshire County Council and Armed Forces Champion said:
"We have a long and proud military heritage here in Staffordshire with a large armed forces community and it's important we support them in whatever ways we can.  This new service and the specialist staff will be able to offer a wide range of support from anything like housing and finances, to help with retraining or finding a job.
"As a big supporter of the forces, I also hope people will join the county council in showing our support for the brave men and women during Armed Forces Day on Saturday 30 June. We will be proudly flying the Armed Forces flag from the County Buildings garden on this special day to show our support for those serving troops at home and abroad, service families, veterans and our cadets."
Last year, SSAFA Staffordshire helped 600 people and helped raise £175,000 for local Armed Forces personnel and their families.
Allen Alderman, SSAFA Caseworker in Staffordshire, said:
"It is not uncommon for ex-service men and women or their families to struggle to adapt to civilian life after leaving the military.  That's where SSAFA can help and we are pleased to be launching the drop-in centre, thanks to the support of Staffordshire County Council and Stafford Library.
"We hope this provides a useful service for veterans and their families, in a welcoming environment to talk about any issues they might be facing."
For further details contact SSAFA Staffordshire on 01785 212680 or pop in to the library on Tipping Street on Fridays between 10am and 2pm.