Sky signs Armed Forces Covenant
Sky has signed the Armed Forces Covenant continuing the commitment to treat fairly those who serve, or have served in the military, and their families.
The Covenant is a promise from the nation to actively support the Armed Forces Community and ensure they are not disadvantaged in their day-to-day lives.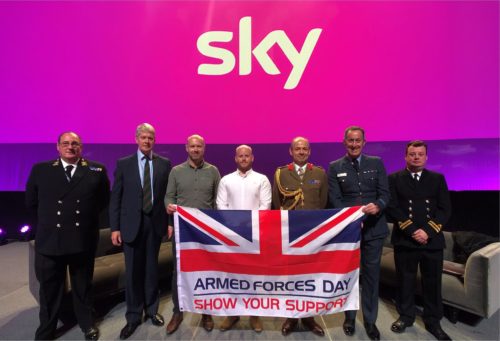 Sky has a longstanding commitment to provide the Armed Forces with the best of our content through Sky's availability in military bases across the world. We also waive cancellation charges for broadband and media packages when personnel are posted overseas or to another part of the UK.
We actively promote the fact that we are forces-friendly organisation and by working with the Career Transition Partnership (CTP), Sky will seek to support the employment of veterans of all ages to establish a tailored employment pathway for Service Leavers.
The agreement also sees the launch of our Sky Armed Forces Employee Network, an internal community for serving personnel, veterans and their allies to connect, support and share experiences across our 23,000 UK & Ireland employees.
Speaking at the signing at our Home Service Conference in Leeds Dock, Sky's Niall MacGinnis Group Director of Security, said:
"We are proud to have signed this Covenant as part of our continuing commitment to the Armed Forces and their families. At Sky, we recognise the value of supporting those who have served and currently serve our country and all those connected with the military.

We are proud to call ourselves a forces-friendly organisation and want to support those working with us now, and in the future from the military community."
Minister for Defence People and Veterans, Tobias Ellwood said:
"It's fantastic to see a leading media organisation like Sky showing their commitment to our armed forces by signing the Covenant.

"Those who serve, or have served, in Britain's military are an incredible group of people who have chosen to put the nation before everything else, often placing their own lives in danger so that those of us at home can enjoy a safe and secure environment in which to live, work and trade.

"Veterans, reservists and military spouses and partners have so much to offer and it's imperative that businesses like Sky support them in the workplace."