Army leadership towering above the rest
General Sir Nick Carter, the head of the British Army, joined BT Chairman Sir Mike Rake at the top of the BT Tower in central London for the re-signing of the Armed Forces Covenant and to launch the Army's leadership doctrine.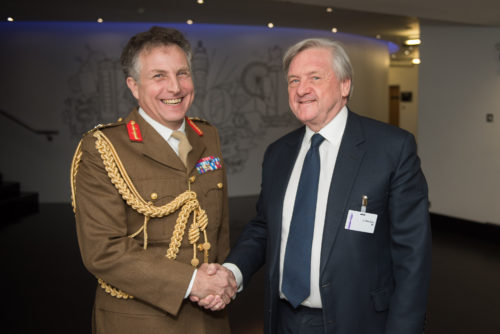 General Carter was keen to point out the importance of the occasion as BT is one of the largest employers of Reserves and of ex Regulars from right across the three Services.
"It is a model," he said, "of how we want to conduct a lot of our Reserve service in the future."
By re-signing the Covenant Sir Mike reaffirmed his company's commitment to the UK's Armed Forces endorsing the value that BT places on the leadership, knowledge, skills and experience that the military provides to its people, both regular and reserve, commissioned and non-commissioned.
Sir Mike Rake said:
"Business requires leaders, not just managers; people who can make the right decisions, sometimes under extreme pressure, at the right time. The UK's Armed Forces fill the capability gap that we need day to day in business by providing high quality training to its people at all levels.
"Reservists bring real additional value to their civilian employers and the Army's leadership and development should be embraced by all employers big or small."
Speaking of the launch of the Army's leadership doctrine General Carter said:
"The strategic context in which we operate has never been more complex or dynamic, and this places a significant premium on good leadership.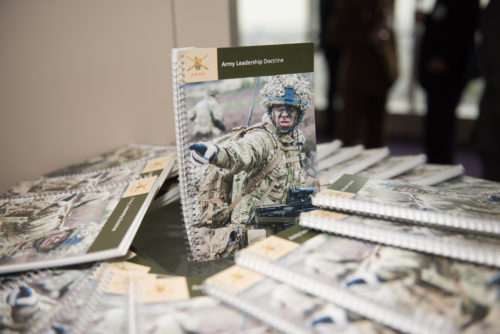 "The new Leadership Doctrine provides a framework of understanding for leaders at all levels in the Army; it may well have wider application within society, and in particular in business.
"Service Leavers, veterans and reservists can bring real value to civilian employers – a partnership, like the one the Army has with BT, is an excellent way of maximising the potential we offer."
Sir Mike strongly supported this view saying,
"BT is proud to be the largest employer of Armed Forces veterans and reservists in the UK.  We provide industry-leading support in the form of comprehensive HR policies and the UK's largest employee Armed Forces Network. We specifically support an Army Reserve unit, 81 Signal Squadron, which has very close links to BT's engineering capabilities.  Consistently we recruit and employ quality individuals who can stand up and be counted within this organisation. Business desperately needs more of them."