Young musicians hit high note with arts award
Two musical youths, Jamie Compton 14 and Bethany Doyle 15 were in perfect harmony when they spoke of their pride in being the first from RAF Shawbury to receive the Trinity College London Bronze Award certificate.
The 12 month long course is designed to build confidence by inspiring young people to grow their artistic and leadership talents.
This particular project, which was funded through the Armed Forces Covenant Connect-Create initiative, was a collaborative project involving Armed Forces Families, local communities and the British Red Cross Shropshire Young Carers.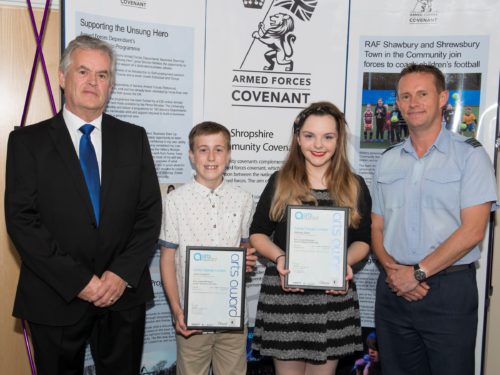 Throughout the project, Beth and Jamie learned about music and song writing, all of which built up to the big day when they performed in front of an audience of 600 at the Theatre Severn in Shrewsbury.
Wing Commander Marcus Collinge who presented the duo with their certificates said, "This is a fantastic achievement with great support from the Armed Forces Covenant.
"Beth and Jamie's achievement highlights their abilities to help those around them: they have not only developed their own skills, but have empowered others to develop as well."
On receiving his award Jamie said, "It's been fun. The workshops have broadened horizons and I have a new respect for songwriters."
Beth said, "This award has meant a lot to me. It has boosted my confidence and performance skills. Thank you to everyone involved, and to the Armed Forces Covenant for funding the project."