Army Reserve drives opportunity for unemployed
Today the Army Reserve, along with civilian employment agency Pertemps, announced a new partnership to help reservists and service leavers into employment. By joining the Royal Logistic Corps as drivers, the unemployed and service leavers can top up their skills through this partnership, and gain their civilian driving certificate. Both the Army Reserve and Pertemps will then guarantee them part time work over the year to help them move out of unemployment.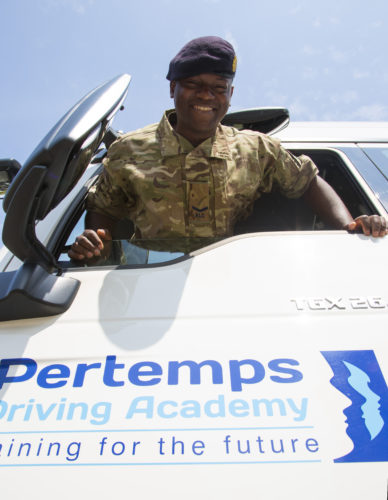 Pertemps support the Armed Forces Covenant and offer flexibility to their reservist employees to do their military training. Today they re-signed the covenant to raise awareness of their new portfolio employment model partnership to support the Army Reserve. The company provides drivers to the haulage industry, but a skills shortage in the sector means that seasonal peaks at times such as Christmas can make it difficult for firms to find drivers. The army's driver training qualifies drivers for military large goods vehicles but does not provide the civilian industry certification. Now with more training paid for by Pertemps, the recruits can gain their commercial licence which would normally cost them around £1000.
Speaking at the covenant signing at Wellington Barracks, London, minister for reserves Julian Brazier said:
"This partnership demonstrates how reserve service can provide direct benefit to employers as well as their employees. I welcome this innovative approach from the Army Reserve, which offers an attractive well-paid role combining service in the Army Reserve and a job with a supportive employer."
Kent Thompson, Managing Director of Pertemps added:
"As an ex-REME Craftsman myself I am aware of the camaraderie that exists in the Army, which we are trying to replicate in Pertemps and our logistic clients. We offer free up-skilling to all military personnel on our LGV vehicles, so that they can come and work for us!"
Lance corporal Baboucarr Jallow from Leeds is currently going through the Pertemps training. Speaking about the scheme he said:
"Pertemps supported my ambition to get my professional driving qualification by guaranteeing me employment. Now I can qualify and know that I'll have a job at the end of it."
Published: May 2016