Former Royal Engineer's pride as housebuilder sponsors Armed Forces Day
A former Royal Engineer, and now director at a national housebuilder, has spoken of his pride at his company's support of an annual national celebration of the military taking place in Salisbury.
Roger Morton, performance director at Bovis Homes, spent more than 20 years in the British Army, and said his colleagues were delighted to be sponsoring the Armed Forces Day National Event.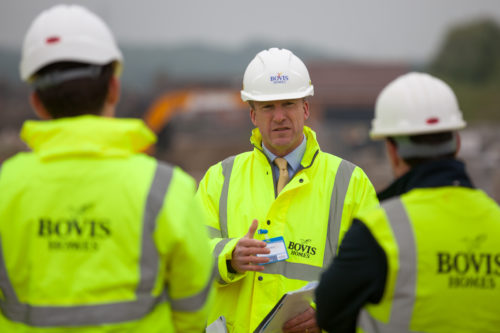 Speaking from Bovis Homes' Longhedge Village location in Salisbury, the Iraq veteran added that the housebuilder's Gold sponsorship was a reflection of the company's close ties to the Armed Forces.
Roger, who once served at nearby Wilton, said:
"We are delighted to support this important celebration of the men and women in the Armed Forces community, who sacrifice so much. We are fully behind this initiative and have many colleagues taking part over this special weekend.

"Having lived within eight miles of Salisbury, three times when serving at Wilton, I know the city very well and the importance of its military ties.

"Salisbury is a fantastic place with deep-rooted connections to the Armed Forces. Residents will be fully behind the weekend, with many visitors arriving in the city, which will be transformed with marching bands, flags, serving personnel, veterans, reservists, cadets, families and charities."
Bovis Homes is a proud supporter of the Armed Forces Covenant, committing to help ensure the nation's Forces, past and present, are treated with respect and fairness.
The company received the Silver Award of the Defence Employer Recognition Scheme, last year, and is now going for Gold, to be an exemplar in the sector.
Gemma Owen, assistant trainee site manager at Longhedge Village, whose dad served in the Royal Engineers and whose grandad was also in the military, said all staff were behind the occasion and many would be there to mark it.
The 23-year-old said:
"Armed Forces Day is important to all Bovis Homes employees, not just those with military backgrounds.

"We work hard to celebrate our colleagues who have served in the Forces as well as help ex-military personnel climb on or up the housing ladder. The Armed Forces do so much for us and we want to repay that service, and support the people of Salisbury and the wider area, as best we can."
Her site manager, Tony Lamb, who was in the Royal Tank Regiment in the British Army for 10 years, and based at Tidworth before starting at Bovis Homes, said that he was looking forward to welcoming guests to the housebuilder's stall at the event, and at Longhedge Village itself.
Armed Forces Day National Event takes place at Hudson's Field in Salisbury over three days, from 28th to 30th June. A military parade in the city centre on the morning of Saturday, 29th June marks Armed Forces Day across the UK.