Sign the covenant
The Armed Forces Covenant represents a promise by the nation that those who serve or have served, and their families, are treated fairly.
The Armed Forces Covenant can be signed by:
Businesses of all sizes
Charitable organisations
Local authorities
Public sector organisations
Single services: Royal Navy, British Army, Royal Air Force (RAF)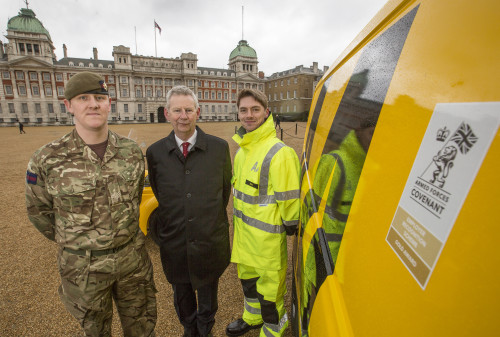 Why you should sign the covenant 
Signing the covenant means that you are supporting your employees as reservists and veterans. 
By becoming a forces friendly employer you can benefit from the wide range of unique skills and experiences that reservists and veterans can bring to your organisation. Employing armed forces community members can help diversify the talent in your workforce. Find out more about being a forces friendly employer. 
What you can pledge
Employers can choose specific promises or pledges to support their employees within the armed forces community. Local authorities promise to encourage local communities in supporting the armed forces community, including promoting understanding and awareness.
Download an editable template that will guide you through what you could include in your covenant promise:
Template for businesses, private sector organisations, and charities
Template for local authorities
The covenant should be signed by someone in authority who will make sure that these promises are implemented, this could be the CEO or HR Director. It could also be co-signed by a member of the armed forces.
You can pledge to
promote the fact you are an armed forces-friendly organisation
support the employment of veterans and service leavers
offer flexibility in leave for service spouses and partner before, during and after deployment
support reservist employees, allowing leave for training and deployment
offer discount to members of the armed forces community
For more information about signing the Armed Forces Covenant, you can email afcovenant@rfca.mod.uk 
Terms and Conditions
By signing the Armed Forces Covenant (AFC) an organisation demonstrates its intention to support the Armed Forces community and provides the signatory with the opportunity to be recognised by the Employer Recognition Scheme (ERS) award.  An ERS award shows that the recipient is delivering tangible support for the Armed Forces community.  The Ministry of Defence (MOD), as the representative of HM Government, welcomes these commitments and is grateful for the support being pledged and provided. However, neither signing the AFC nor achieving an ERS award should be taken to imply MOD endorsement of any individual or organisation.
ERS awards at Silver and Gold level are reviewed every five years, at which point they can be renewed for a further five years, providing the organisation is continuing to deliver support. However, at any time, the MOD reserves the right to withdraw an award and/or to remove an organisation from the register of AFC signatories,  if it considers that the organisation is acting in a way that is incompatible with the spirit of the AFC or otherwise behaves in a way that could bring the AFC,  the ERS or the MOD into disrepute.
By signing the AFC and/or achieving an ERS award, an organisation becomes eligible to use the Covenant and ERS logos. However, this permission remains at all times conditional upon complying with the branding guidelines, which are available here. Any organisation that is removed from the AFC register or has an ERS award withdrawn must remove the related branding from all corporate material including but not limited to its websites, social media channels, publicity leaflets etc as soon as practicable.