Prince Harry and George W. Bush: overcoming social taboos is key to healing the invisible wounds
HRH Prince Harry was joined by former US President George W Bush at a symposium on invisible wounds held as part of the 2016 Invictus Games.
Prince Harry and the former President were joined on stage by JJ Chalmers, a former Royal Marine who was wounded in Afghanistan and Israel Del Torro, who has recently re-enlisted into the US Air Force after being discharged in 2006 with burns to 80% of his body.
"Invisible wounds" encompasses both the psychological impact of Post Traumatic Stress Disorder (PTSD) and physical effects of traumatic brain injuries.
"Early treatment is the key to successfully treating PTSD," said Prince Harry. "We need to recognise the signs and symptoms and signpost the best help for people."
The panel agreed on a second important point: the impact sport can make on the journey to recovery and rehabilitation.
"Sport is very calming and gives you great focus," said Israel Del Torro, a man lauded throughout the US military simply as DT. "And then there's the camaraderie; the stuff you miss from your unit. The Invictus Games is great for that."
JJ agreed. "Physical activity promotes recovery and reduces stress, " he said.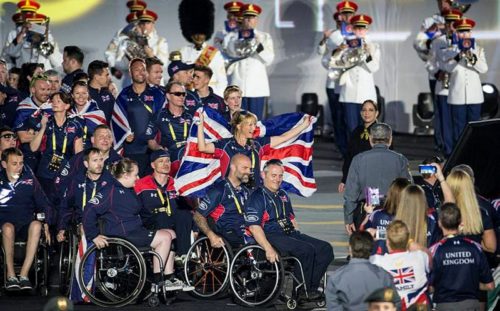 But all four panellists agreed that the single most important challenge facing the Invictus generation is to change society's view of mental health issues. Prince Harry said that the inaugural Invictus Games in London in 2014 smashed the stigma of physical injuries and he wants Orlando 2016 to do the same for mental health. Ex-President Bush agreed. "I don't even call it PTSD", he said. "I just call it post-traumatic stress because simply using the word 'disorder' stigmatises the whole thing."
JJ Chalmers agreed. "Success for me at Invictus 2016 means destigmatising the taboos around mental health. People who have physical injuries have obvious symptoms but people with hidden injuries don't and they're likely to put themselves at the bottom of the pile and prioritise everyone else first. It's about feelings of shame and the stigma that society still attaches to mental health issues."
"Part of destigmatising it means simply talking about it," added Prince Harry, " the way we do about amputation or cancer."
Changing society's atttitudes is fundamental to enabling veterans with invisible wounds fully integrate back into society. "If I ran a business," said Prince Harry, "I'd want to employ veterans irrespective of physical or mental injuries because of their training, their attitude and the values that they stand up for."
Ex-President Bush agreed. "Veterans want help," he said. "They don't want pity."
Published: May 2016