Small Business Boost with Facebook for the Armed Forces Community
Providing veterans with the digital skills to launch their own businesses
Facebook UK has provided over 300 armed forces veterans with digital skills training at the Boost with Facebook for the Armed Forces Community event in London, a half day series of panel discussions and training sessions to launch Facebook's commitment to supporting the UK veteran community.
Tapping into veterans' entrepreneurial spirit
14,000 people leave the armed forces every year, but on average during the past four years, just 2% of veterans started businesses, despite having key entrepreneurial skills like discipline, leadership, and lateral thinking. We're excited to be working with our UK partners, Heropreneurs and X-Forces, to provide them with the digital know-how that will help them start businesses and make use of those skills. This is part of our wider support for the ex-forces community in the UK, where we have recently signed the Armed Forces Covenant – a pledge from us to ensure ex-military personnel are provided with equal opportunities.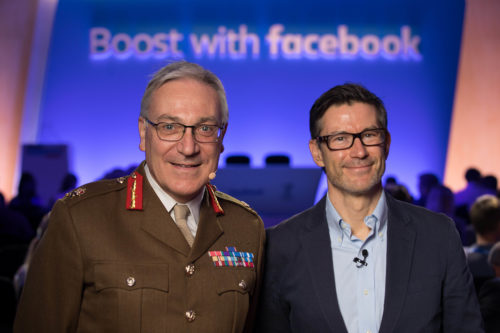 Lieutenant General Richard Nugee, Chief of Defence People, Ministry of Defence: "It is an honour to be signing the Armed Forces Covenant with Facebook, who are taking great steps to not only ensure veterans are supported in the workplace, but that the wider community of Armed Forces personnel can access digital skills training to help them achieve their entrepreneurial ambitions."
Supporting small businesses is something we feel strongly about here at Facebook. We have invested more than $1 billion to help local businesses grow and help people find jobs. And we have also committed to training 1 million people by 2020 with new digital skills through in-person events like this one, online training and partnerships with local and national organisations. In addition to this, we have recently launched Boost with Facebook – a one-stop shop for small businesses, job-seekers, and other community leaders to find the resources and training they need to thrive in the digital economy. That's because when small businesses grow and hire, our communities benefit too, which is what Boost with Facebook is all about.
Andy Mihalop, Facebook Marketing Program Lead EMEA, and veteran: "Being in the military was a massively formative part of my life, and I owe a lot of my success to the skills and traits I developed serving in the Forces. I'm really proud to be a part of this event today, and of the work Facebook is doing to support veterans through digital skills training and supportive workplace practices."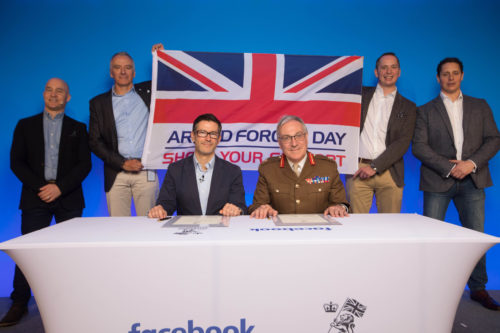 Shining a spotlight on digital-first veteran founded businesses
Michael Coates, co-founder of Combat Pest Control, host of the award-winning Declassified podcast, military veteran and former firefighter.
One of these people is Michael Coates, co-founder of Combat Pest Control. Following six years with the British Army, including service in Iraq, Michael was compelled to help friends and peers suffering from post-traumatic stress disorder. In 2015, he co-founded Combat Pest Control, a London based pest control company that employs veterans, reservists and spouses.
To date, the company's work has provided support to educate over 3,000 children in conflict-affected areas, and Michael's award-winning Declassified podcast has broken the silence on difficult subjects by sharing military stories. It's now had over 110,000 downloads and was nominated for 'Best interview podcast' in the 2019 British Podcast Awards. When Michael set up Combat Pest Control, he didn't know how to build a website – but Facebook's tools for businesses were easy to use and he was quickly able to build a substantial presence online and find new customers.
Nick and Louise Goldsmith, founders of Hidden Valley Bushcraft, former Royal Marine & police officer.
When Nick was medically discharged with PTSD after 11 years in the Royal Marines, he and his partner Louise – a child protection police officer – needed time to recover. Nick was passionate about bushcraft and, with help from his ex-forces friends, he and Louise set up Hidden Valley Bushcraft – a company providing outdoors education and recreation experiences on 6 acres of previously disused woodland. Today the company, which started out by offering children's parties, runs a woodland nursery, corporate team building events and a number of wellbeing days. Nick and Louise think they couldn't have succeeded without Facebook. It means that Hidden Valley Bushcraft is able to use images to tell its story, and Nick and Louise have used features like Facebook Groups to grow their presence organically and put their business on the map. Steve Hatch, Facebook Managing Director for Northern Europe: "It has been a great privilege to hear the inspiring stories of the many veterans we have worked with on this programme, who have either set up their own businesses since leaving the armed forces or are looking to get started on their own entrepreneurial journey. I am immensely proud to be signing the Armed Forces Covenant, and want to thank the UK's veteran community for their service on behalf of everyone here at Facebook."
Check out our new small business resource hub to learn more about the free tools, resources and advertising options we offer small businesses.